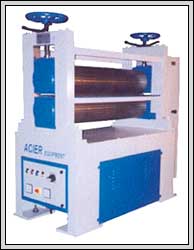 Established in 1992, Acier Equipment is committed to serve metal manufacturing and its process industries. Acier Equipment is a custom solution supplier ranging from engineering parts, tailor made assemblies to complete design, build, install and commissioned equipment. We are successful at providing high quality, robust equipment to our customer. Our innovative approach utilizing the latest materials of construction, continuous up gradation of design together with level of automation as required and up to date drives and control philosophy result in low (no) maintenance and minimal operating cost while maximizing customer satisfaction. We adhere and believe:-


in customer satisfaction,
in quality of product and service,
in integrity when working with our Customer.

Clients :

We have a wide client base spread all across the home country and also in the Ethiopia, Kenya, Uganda, Tanzania, Angola, Mozambique, Malawi, South Africa of the African region. The type of industries to whom we serve are :


Steel Plants & Cold Rolling Mills
Non-Ferrous Metal Rolling Mills
Galvani sing Plants for strip / sheet
Strip Process Industries & Service Units
Bi-Metal Bearing / Strip manufacturing Units
Cutting & Corrugating Plants
Industrial Furnace Manufacturers
Equipment Manufacturer & Consulting Units.

We never lose sight of the fact that the customer is the most important asset in our company.
Read more...